Let's get working fast!

The following article is a stub! It is not considered to be complete regarding the information available for it for now and still need to be improved. Your help is highly appreciated here. You can help us by expanding it!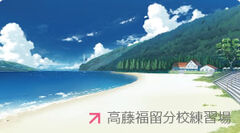 On Fukurujima, there is another school that Rika Ichinose, Reiko Satoin and Kazunari Shindo attend which has its own practice ground for Flying Circus. This is a venue used for tournaments. In the distance, one can see the island where the other main characters live, Kunashima.