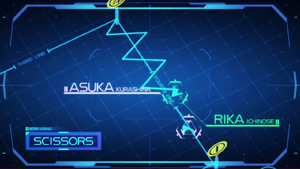 Scissors is a special move used in flying circus than can be used to confuse the opponent player.
Execution
The executer zig-zags towards and/or around the blocking opponent to confuse them and score a point or get past them.
Known Executioners
Trivia
First seen in Episode 3.
Rika executed out Scissors to confuse Asuka Kurashina in their match.
Arika Okoze is the first one that used big scissors to confuse Asuka.
Scissors are originally used by speeder types.
Ad blocker interference detected!
Wikia is a free-to-use site that makes money from advertising. We have a modified experience for viewers using ad blockers

Wikia is not accessible if you've made further modifications. Remove the custom ad blocker rule(s) and the page will load as expected.