The Low Yo-Yo is a move used to speed-up in Flying Circus.
Execution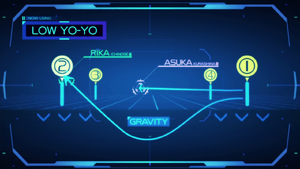 Countering the High Yo-yo, the Low Yo-yo involves using gravity to slowly descend, and then halfway, begins to ascend to gain speed.
Know Users
Trivia
First seen in the competition between Asuka Kurashina and Rika Ichinose.
Its counter-part is the High Yo-yo.