Let's get working fast!

The following article is a stub! It is not considered to be complete regarding the information available for it for now and still need to be improved. Your help is highly appreciated here. You can help us by expanding it!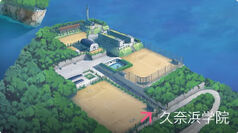 Kunahama Academy rests on top of a hill, where facilities for Grav Shoes have recently been established. However, Flying Circus clubs are not the only facilities located at the schools around the islands. Some special additions have been established at the building, including a rooftop garden for students to relax.
Students
Teachers
Ad blocker interference detected!
Wikia is a free-to-use site that makes money from advertising. We have a modified experience for viewers using ad blockers

Wikia is not accessible if you've made further modifications. Remove the custom ad blocker rule(s) and the page will load as expected.